23910 Village Drive. Richland, Missouri 65556

Phone:
(417) 453-6601

&nbsp
GSD@Waldenhaus.com
"Excellence in German Shepherd Temperament is our Specialty and our Breeding Standard for Over 30 Years"

Welcome to our Home on the Internet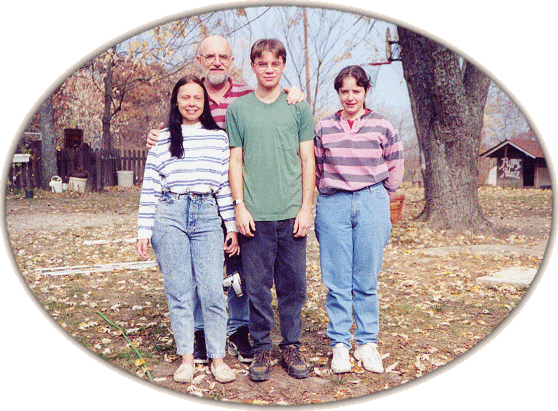 Left to right - Susan, Tom, Lucas, and Andrea Forrest
---
Vom Waldenhaus German Shepherds is a small, very specialized breeding and training facility located on 120 wooded acres in the middle of the Mark Twain National Forest in South Central Missouri.

We have dedicated 3 acres for our kennel facility and the remainder (wooded land) for our training area. Our nearest neighbor is over a mile away. Visitors are welcome to visit our German Shepherd Paradise anytime by appointment. This way we can set aside enough time to answer your questions and for you get to know who we are.

We made the decision many years ago when we started, to be a "private" German Shepherd breeding kennel, not a commercial operation, We do not sell wholesale to pet stores, brokers or anyone who intends to resell. We will only sell to "private" individuals who are seeking a truly wonderful family companion. Our breeding and basic kennel management is based on a life time of wholelistic approaches to improving and maintaining healthy vigorous German Shepherds. We only produce 3 to 4 litters in a year.

Our German Shepherd Breeding kennel is closed to all outside disease and pestilence. We eliminated fleas from our kennel some 25 years ago and that was a GIANT step toward eliminating a lot of associated disease and illness like tapeworm, etc. We also stopped doing stud service and boarding at the same time, which cut down on a lot of transient potential problems.

We invested in a separate housing facility, which is outside of our regular kennel whelping and breeding facility. Here is where new potential breeding candidates, fully vaccinated young adults that make regular visits to town to be socialized, are kept in pairs in very natural, large open, graveled pens. These pens, as are all of our pens are larger than most peoples back yards. Only after a GSD has been separated from the heart of the kennel for 45 days and monitored for disease is it allowed into the breeding, whelping area. It's extra precaution and extra work, but having our GSD friends, happy and virtually sickness free is worth it. All of this without the daily use of dangerous chemical sprays and dips so common at most kennels.

These dogs are like our children and the bonus is that our Vet bills are usually only for vaccination medications, preventative heart worm testing and medications, preliminary and OFA hip x-rays.

The Forrest Family has been raised by and has been raising imported German Shepherds since my Great Grandfather, Roland Forrest's day before the Great Depression. It is in our blood to be around these magnificent animals. We at Vom Waldenhaus have been carrying on this family tradition, since the spring of 1976, over 30 years now.

We hope you enjoy viewing our website and the quality of family companions we strive to produce.

---
These pages will be updated and changed often, as we offer other German Shepherds for sale
so bookmark us and keep checking back with us to see what is new.


Quick Access Menu


You can reserve your German Shepherd Puppy today with a deposit on your credit card


Feel free to E-mail us at
GSD@Waldenhaus.com
with any questions, suggestions or tell us what you think of our web site.
Thanks for visting our online German Shepher Kennel and remember to your favorites,
Susan, Andrea, and Lucas Forrest
---